P&Z To Consider Historic Overlay District 01/12 12pm
The Downtown Historic Overlay District is the subject of Tuesday's meeting of Chillicothe's Planning and Zoning Commission. The meeting is at 6:00 pm at City Hall. Main Street Director Ben White says since the meeting in October, they have worked with the downtown businesses who had concerns about the proposed ordinance and have worked to refine the proposal.
<Audio: White 1>
White says the main purpose of the ordinance remains the same.
<Audio: White 2>
City Administrator Darrin Chappell says it is a good compromise for all involved.
<Audio: Chappell 3>
The Planning and Zoning Commission meeting is Tuesday at 6:00 pm at City Hall and is open to the public.



LCSD Drug Investigations and Arrests 01/12 12pm
The Livingston County Sheriff's Department reports numerous arrests, including a few in cooperation with the Chillicothe Police Department since the fires of the year.
January 2nd, a traffic stop for a traffic violation resulted in the arrest of 28 year old Travis Lee Donoho for alleged Driving While Revoked, No Insurance, Expired Plates, Possession of Marijuana and Possession of Drug Paraphernalia
A traffic violation on January 2nd resulted in the arrest of 28 year old Kimberly Ann Lewis of Trenton for alleged Possession of Methamphetamine, Possession of Drug Paraphernalia, Driving While Revoked or Suspended and Vehicle Registration Violation.
January 5th, a well being check on a rural road resulted in the arrest of 26 year old Ryan Christian Wheeler of Chillicothe for alleged Possession of Marijuana and Drug Paraphernalia.
On the 5th, Deputies assisted the Chillicothe Police Department with a fugitive investigation which led to the arrest of three on a variety of charges including drug charges.
January 6th, a well being check resulted in the arrest of 45 year old Shella-Mae Yvonn Vanosdoll, of Hale for alleged Possession of Controlled Substance.


Mayor Accepting Applications For Two City Boards 01/12 12pm
Chillicothe Mayor Chuck Haney is still taking applications for openings on two city boards. Applications are accepted for the openings on the Board of Adjustments and Airport Board. Applications are available at City Hall and must be returned to the City Clerk by January 16th (Tuesday). If you have questions, call 646-1877.


Memory Tree Ornaments Ready For Pick-Up 01/12 12pm
If you purchased an Ornament for the 2017 Memory Tree at Silvermoon Plaza, those ornaments are available for pick-up. Pam Jarding from Main Street says there were just over 100 ornaments on the tree this year and they are ready to be picked-up.
<Audio: Jarding 1>
If you have questions, call the Main Street office at 646-4071.


Carrollton Town Council Meets Monday 01/12 12pm
The Carrollton Town Council consider items from the police department and appointments from the mayor. The Carrollton Council Meeting is Monday at 6:00 pm at City Hall.
The agenda begins with presentations from the police department on the Drug Task Force and about recent Liquor License Violations.
The Mayor also presents information on his appointments for the City Works Board and the Ward 3 opening.
Reports to the Council include from the Wastewater Department, the Street Supervisor and from the Administrative Assistant.


Several Schools Starting Late Friday 01/12 6am
Several area schools have a Two Hour Late Start (unless otherwise noted)
Breckenridge
Chillicothe
Chillicothe - Grand River Tech - NO morning area schools
Gallatin
Grundy County of Galt
Hamilton
Kingston R42
New York R4
Pleasantview - Late start, no early out
Polo - 10:47 start time
Southwest of Ludlow - No Vo-tech bus - NoPre-K
Trenton
Tri-County of Jamesport - No Vo-tech



Troopers Investigate Two Accident In Local Counties 01/12 6am
State Troopers investigated two injury accidents Thursday.
At about 9:00 pm in Sullivan county, 22 year old April Wipple of Princeton was injured when she was southbound on Route E, west of Milan and lost control on the ice covered roadway. She went off the road and the pick-up she was driving overturned. Wipple was taken to Sullivan County Hospital and later flown to University Hospital in Columbia for treatment of moderate injuries. She was wearing a safety belt.
At about 8:50 pm in Linn County, 36 year old Ronell Clark of Brookfield was westbound on US 36 near Laclede and went off the left side of the road and struck a sign. He returned to the road and went off the right side and into the woods. He was taken to Pershing Memorial Hospital in Brookfield for treatment of minor injuries. He was arrested by Troopers for alleged DWI, careless and imprudent driving and resisting arrest and released for treatment of his injuries.



Chillicothe Police Report For Wednesday 01/12 6am
The Chillicothe Police report includes one arrest and an investigation.
Tuesday evening, officers stopped Keith Morgan Rulo at Graves and Green Street. Rulo was arrested for alleged Driving While Revoked or Suspended. He was cited and released.
Wednesday at 11:10 am, officers began an investigation of fraudulent use of a credit card. The individual stated the credit card was used at multiple locations online. The investigation continues.



Sheriff's Report For Early January 01/12 6am
The Livingston County Sheriff's Department investigated several reports and made several arrests.
January 3rd, deputies responded to a location on LIV 520 for a report of Domestic Assault. The call resulted in the arrest of 45 year old Stephanie Marie Brownsberger for alleged domestic assault and resisting arrest.
January 4th, deputies began an investigation of alleged child sex offense where both the offender and victim are juveniles.
January 5th, Trash dumping was investigated on LIV 424 near Ludlow.
Also on the 5th, Deputies began an investigation of alleged domestic assault that happened December 30th in Wheeling. The investigation resulted in the arrest of 22 year old Colten Nathaniel Berry for alleged Domestic Assault.

Other arrests include:
January 9th, 57 year old Brenda Lea Burnett, of Breckenridge on a Livingston County warrant for alleged Probation Violation.
January 10 , 36 year old Mathew Jeffery Pike of Chillicothe on a Livingston County arrest warrant for alleged DWI.


Fire Call To Hedrick Medical Center 01/12 6am
Chillicothe Fire Fighters responded to Hedrick Medical Center Thursday at about 1:10 pm on an automated alarm. Fire Fighters arrived in about 2 minutes ands advised the alarm was in the air handler unit. No problem was found. The alarm was reset, but it sounded again. Further investigation found no problems and the alarm was reset a second time.
The fire chief remains on scene to further investigated with the building maintenance staff.
The fire crew was back in service after about an hour.



Weather Conditions Continue To Change 01/11 12pm
Cold air continues to move into the KCHI listening area this evening. Snow could be a factor into the overnight hours, but should end by around midnight. National Weather Service Meteorologist Jonathan Welsh says temperatures dropped from near 50 this morning to the mid 20's by noon and single digit temperatures are expected. Welsh says they hope to see overall conditions improve by morning.
<Audio: Welsh 1>
Temperatures will remain below the freezing mark into next week.


Chillicothe Has Make-Up Day on Monday 01/11 12pm
The Chillicothe R-II School District has its first Snow Day and Superintendent Dr Roger Barnes says the will make that up next week.
<Audio: Dr Barnes 1>
Barnes says the Chillicothe R-II School District will be in session Monday!


FFA Greanhand Conference In Trenton 01/11 12pm
Four hundred fifty high school freshmen, representing the FFA programs at 26 high schools attended the annual Greenhand Motivational Conference at North Central Missouri College. The students met state FFA officers and learned more about the field of agriculture and opportunities available through FFA. The event was co-sponsored by North Central Missouri College and MFA Incorporated.



Remembering Vietnam POW's and MIA's 01/11 12pm
Members of the US Military who did not make it home from the Vietnam War were remembered recently in Springfield, including one from Chillicothe. Chillicothe's City Administrator, Darrin Chappell is the Vice President of the Veterans in Defense Of Liberty says the roll of the POW's and MIA was read at the event.
<Audio: Chappell 1>
Chappell says efforts continue to bring home all POW's and those Missing in Action.
<Audio: Chappell 2>
Chappell says his organization and others are continually lobbying congress to bring all veterans home.


Two Fire Calls After Power Outage 01/11 6am
Chillicothe Fire Fighters were called to two locations after electric power went out Wednesday. The calls came in about 12:25 pm to a business at 619 Elm Street and to the Livingston County Courthouse.
Upon arrival occupants stated that they had lost power and started to smell something hot. Thermal imaging cameras were used to search for hot spots. The fire crews found no fires were found and advised both locations to contact an electrician.



Chillicothe Police Report For Tuesday 01/11 6am
Chillicothe Police report several incidents For Tuesday, including several arrests.
Tuesday morning, a traffic stop at Ann Street and Elm Street resulted in a citation for speeding in a school zone.
Tuesday morning, a traffic stop at Washington and Calhoun Street resulted in a citation for driving without insurance. Additional citations are pending.
Tuesday morning, Officers received information that items that had been reported stolen in Chillicothe were located in another jurisdiction. The investigation is on going.
Late Tuesday morning, Officers received a report from the Children's Division in reference to possible sexual assault. All parties have been contacted and the investigation is on going.
Tuesday evening, Officers responded to the 900 block of Elm Street in reference to a suicidal individual. Officers were able to talk the individual into voluntarily going to Hedrick Medical Center to be evaluated.
Tuesday evening, Officers responded to the 8000 block of Comanche on a report of a suicidal individual. The person was taken to Hedrick Medical Center voluntarily for an evaluation.
Tuesday evening, Officers received a report of stealing in the 1000 block of Graves Street. As a result, Officers arrested Cara Boydston and Sharon Collins for alleged shoplifting.
Tuesday evening, Officers responded to the 300 block of Mansur in reference to a report of drug use. As a result, Officers arrested Michael Braden for alleged tampering with physical evidence and endangering the welfare of a child, Cara Boydston for alleged endangering the welfare of a child and Sharon Collins for alleged unlawful use of drug paraphernalia. Officers contacted the Missouri child abuse hotline and temporarily placed the infant child of the home with another family member.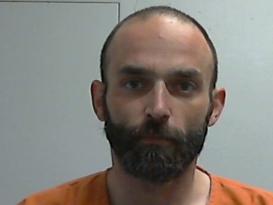 New Livingston County Most Wanted 01/11 6am
The Livingston County Sheriff's Department added a new name to their Most Wanted list. Sheriff Steve Cox says they are asking for assistance in locating 34 year old Charles Brandon Collins. Collins is wanted on a Livingston county warrant for alleged Probation Violation on a conviction for possession of a controlled substance. The warrant has on bond allowed.
Collins is described as a white man, 5 foot 8 inches tall, 140 pounds, with brown hair and brown eyes.
If you have any information about Collins whereabouts, call the Livingston County Sheriff's Department at 646-0515 or the dispatch office at 646-2121.


Troopers Arrest Cowgill Teen 01/11 6am
A Cowgill teen was arrested by State Troopers Wednesday evening in Caldwell County. Seventeen year old Brain Youtsey of Cowgill was arrested about 5:30 pm for alleged possession of marijuana and no front license plate on a vehicle. Youtsey was held at the Caldwell County Detention Center.


Several Area Schools Closed Due To Weather 01/11 5am
Several Area Schools are CLOSED today. This ist will continue to change as the morning continues.
Listen to KCHI for the latest on school closings and check the KCHI Facebook Page.

Closed:
Chillicothe R-II
Chillicothe - Grand River Tech. School
Chillicothe - UMC Pre-School
Braymer
Breckenridge
Brookfield
Carrollton
Chula
Gallatin
Grundy County of Galt
Hale
Hamilton
Marceline
Meadville
New York R-4
Pleasantview
Polo
Southwest of Ludlow
Tina Avalon
Trenton R9
North Central Missouri college
Tri-County of Jamesport

In Addition
Grand River Multi-Purpose Center is CLOSED today and no delivered meals -- The Concerned Citizens Board meeting is rescheduled to Wednesday 1/17 at Noon
Missoula Children's Theater Rehearsal for Thursday @ 4:00 pm canceled


Squirrel Causes Outage In Chillicothe 01/10 12pm
KCHI and a good portion of southern Chillicothe, including the downtown area, was without power for about 20 minutes in the noon hour (Wednesday). CMU Electric Superintendent Matt Hopper says a squirrel got into the substation at 3rd and Mitchel. Power is re-routed and repairs are underway.


Winter Returns On Thursday 01/10 12pm
With high temperatures today in or near the 50's, Thursday's weather will be a return to winter. National Weather Service Meteorologist Scott Blair says Thursday morning will start out fairly warm.
<Audio: Blair 1>
Blair says travel conditions Thursday will change as the day continues.
<Audio: Blair 2>
The colder temperatures are expected to continue into the weekend.


"Gullivers Travels" Presented Saturday 01/10 12pm
The Missoula Children's Theater presents "Gulliver's Travels" Saturday in two performances. Chillicothe Area Arts Council Director Mary Lou Vandeventer says about 60 area children, in Kindergarten to 12th grade, are rehearsing this week for the two performances.
<Audio: Vandeventer 1>
The performances are also part of the Chillicothe Area Arts Council season ticket package, so arts council members are admitted with that season pass.


Community Choir Practive Begins Tuesday 01/10 12pm
The Chillicothe Community Choir begins practices begin Tuesday for a concert on February 25th. Anyone High School age and older is invited to be part of the Chillicothe Community Choir. There are no auditions, and everyone is welcome. Practices are held in the sanctuary of the United Methodist Church each Tuesday evening from 7:00 to 9:00 pm
The choir is under the direction of Dave Goodwin, retired Chillicothe instrumental music instructor, with accompaniment by Carolyn Johnson. The choir will perform February 25at 3:00, as part of the Chillicothe Area Arts Council's 2017 - 2018 season programming.
For additional information contact Marylou VanDeventer at the arts office, 646-1173.


Trenton Replaces Sweep Totaled In Accident 01/10 12pm
The Trenton Street Department has a new Street Sweeper, replacing one totaled in an accident. City Administrator Ron Urton says the council approved the replacement Monday.
<Audio: Urton 1>
The cost of the new sweeper is $218,000. Financing includes insurance along with reserve funds and a lease purchase program.



Council Approves Purchase Of Directional Boring Machine 01/10 6am
Chillicothe Municipal Utilities is upgrading their equipment used to put power lines underground at a cost of $211,520. Electric Superintendent Matt Hopper addressed the Chillicothe City Council Monday for approval of a new directional boring machine. Hopper says they are replacing an obsolete piece of equipment.
<Audio: Hopper 1>
Some of the advantages of putting the power lines underground are eliminating the need for tree trimming around the power lines and it keeps the squirrels out of the powerlines, reducing outages. Hopper says another advantage to the new equipment is technology that improves locating services and mapping of the utilities.
<Audio: Hopper 2>
The council approved the same machine recommended by the board of public works.
Hopper says they did not trade in the current directional boring machine and says they will seek a private buyer.


Report Of Electrical Fire Summons Fire Fighters 01/10 6am
Chillicothe Firefighters responded to a possible electrical fire in the 1100 block of Hillside Drive Tuesday night. The call came in at 9:40 and the fire department arrived in four minutes to find an electric floor heater had over heated and the thermostat on the wall was hot. The owner stated sparks had come from the thermostat prior the call to the fire department. A thermal imaging camera was used to look for any heat in the floor/ceiling areas.
The owner stated they had not used the radiant floor heating since owning the home. Power to the radiant heat was turned off and the owner were advised to contact an electrician.
No actual fire was found, and the fire crew returned to service after about 40 minutes.


Theft And Burglary Investigated In Gallatin 01/10 6am
The Gallatin Police Department is investigating a couple of recent burglaries. January 4th, someone broke into the city's new water plant and stole a couple of space heaters, a propane tank and a 30 gallon water heater. The following day, officers took reports of three businesses broken into and they were apparently looking for petty cash.


Troopers Arrest Marceline Man Tuesday 01/10 6am
A Marceline man was arrested Tuesday in Linn county. State Troopers arrested 29 year old Dalton Hicks for alleged Driving While Revoked. He was taken to the Brookfield Police Department, processed and released.



Scam Targets Area Elderly 01/10 6am
Chillicothe Police warn of a scam targeting area residents, specifically the elderly. Detective Michael Smith says they received a call from a resident who received a call claiming to be from law enforcement in another country.
<Audio: Det Smith 1>
Smith says the local resident did not fall for the scam and did not send money to the crooks that are preying on emotions. He says if you think a call like this may have the remote possibility it is true, call the family member to check on their whereabouts.
<Audio: Det Smith 2>
If you are concerned about possible scams, call your local police department.


Trenton Fire Department To Have New Aerial Truck 01/09 12pm
The Trenton Fire Department will have a new Aerial Fire Truck. The Trenton City Council approved the purchase of the truck City Administrator Ron Urton says will be smaller than the current truck.
<Audio: Urton 1>
Urton says the cost is about $647,000. He says that truck is financed, with payments through the sales tax.
<Audio: Urton 2>
They hope to have the new truck in about 6 months


Trenton Council Approved Water Tower Painting 01/09 12pm
Painting two water towers in Trenton costs about $657,000. City Administrator Ron Urton says the bid was awarded to Ozark Applicators. He says one of the towers is currently painted with lead based paint. Both towers will have the current paint removed and any repairs done before they are repainted.
<Audio: Urton 1>
The painting of the towers should last about 20-30 years and Urton says it had been longer than that on both towers.


Jamesport Woman Faces Drug Charges 01/09 12pm
A Jamesport woman is charged with alleged possession of a controlled substance (methamphetamine,) possession of drug paraphernalia and endangering the welfare of a child. Eighteen year old Breanna Clevenger was arrested last week by the Trenton Police Department. Bond was set at $25,000.


Chillicothe Police Report 01/09 12pm
The Chillicothe Police Department report includes numerous incidents investigated Monday.
At about 8:30 am, Officers assisted Chillicothe Emergency services with a medical call in the 300 block of Park Lane.
At about 11:35 am Officers took a report of a stolen vehicle. The theft was found to have happened in another jurisdiction and the reporting party was referred to that agency to make the report.
Monday afternoon, Officers took a report of possible harassment. The incident was not criminal and the officers referred the person to the Livingston County Victim Advocate.
Monday afternoon, Officers responded to the 400 block of Clay Street in reference to a possible fraud report. After further investigation and making contact with the bank, the incident was found to not be criminal in nature.
Monday afternoon, a report was taken for interference with the custody of a child.
A domestic disturbance reported at about 3:35 pm in the 200 block of E. Bridge Street. The investigation is continuing.
Prescription medicine was reported stolen in the 200 block of Webster Street. The investigation is continuing.


No Trash Service On MLK Day 01/09 12pm
The Chillicothe Trash pick-up for Monday, January 15th, will take place Tuesday the 16th as CMU is off for Martin Luther King Day. CMU Refuse Director Troy Figg says Chillicothe residents with a Monday Trash Route are asked to hold their trash until Tuesday. The Tuesday route is picked up on the regular schedule.


Four New CDW Cases In Linn County 01/09 12pm
New cases of Chronic Wasting Disease are found in the 2017 deer harvest for Linn County. The Missouri Department of Conservation reports 15 free-ranging Missouri deer have tested positive for chronic wasting disease out of the nearly 18,400 test results received for the season. Of the 15 new cases, 4 were from Linn County and were hunter-harvested adult bucks,



ConAgra Announces Closing Date 01/09 6am
ConAgra Foods set the date to cease production at the Trenton plant for May 31st. Monday, ConAgra notified the City of Trenton and the Missouri Department of Economic Development they plan to close the plan in Trenton on or near May 31st. The shutdown will begin with separation notices around March 9th, affecting the more than 250 production employees and 30 plus management.
Trenton's Economic Development Consultant, Phil Tate says the city and others are working to keep the plant open under other ownership.
<Audio: Tate 1>
The work on that agreement continues.


Council Approves Surplus Weapons And Disposal 01/09 6am
Thirty rifles, shotguns and automatic weapons owned by the Chillicothe Police Department are declared surplus items. The Chillicothe City Council approved the action at Monday's meeting. Police Chief Jon Maples says some of the weapons are 30 or more years old and were recently replaced with new weapons.
<Audio:Maples 1>
There are five automatic weapons, including three Bushmaster XM-15's, an UZI and a Styer-MP81. Maples says those will be handled separated from the other guns.
<Audio:Maples 2>
The Council says the rifles and shotguns declared surplus may be sold at auction or by closed bid.


Police Vehicles On And Off Surplus List 01/09 6am
The Chillicothe Police Chief addressed the council about two vehicles at Monday's meeting. Chief Maples says their 2003 Trailblazer needs to be declared surplus.
<Audio:Maples 1>
Maples also asked to take a surplus vehicle off the surplus list.
<Audio:Maples 2>
The council approved both actions.


Police & Sheriff Cooperate On Drug Arrest 01/09 6am
The Chillicothe Police and Livingston County Sheriff's Department arrested three and seized drugs and paraphernalia Friday.
At about 7:30 pm, the Officers responded to the 400 block of St. Louis Avenue to arrest a man on an Livingston county arrest warrant. They arrested 30 year Brandon Scott Simpson on the warrant and alleged drug charges. As a result of this investigation, they also seized methamphetamine, methamphetamine paraphernalia and removed and infant child from the home.
Also arrested at the scene were 23 year old Felicia Pauline Martin and 27 year old Renee Justine Korona. They are all three held at the Daviess Dekalb Regional Jail.
Chillicothe Police Chief Jon Maples says during this investigation, two other theft cases were solved.


CMS Peoples To Speak At Audubon Meeting 01/09 6am
A Chillicothe Middle School Science Teacher is the guest speaker for the Grand River Audubon Society as they meet Wednesday. The meeting is at 6:30 pm at the Litton Agri-Science Center. Social time at 6:30 followed at 7:00 by the program presented by Ms Amy Peoples. Her program is on her work with the Smithsonian on Showing how "Bird Migration changed due to Climate Change."
Peoples was awarded a scholarship to work with the Smithsonian this summer. The public is always welcome to come enjoy the program.


Daviess Co PWSD #2 Water Line Break 01/08 12pm
A watermain break leaves a portion of Daviess County Public Water Supply District #2 without water until the leak is repaired later this afternoon. The water line break is at Harbor Avenue and Highway 13. The affected customers are south of that location, including the community of Jameson. Also affected are residents along Highway 6, east of Highway 13 to Route K.
The repair should be complete Monday by 5:00 pm, but may take longer. A boil advisory is in place through Thursday.


Area Water Districts Earn Fluoridation Award 01/08 12pm
Three local water districts earned the Water Fluoridation Quality Award from the US Centers for Disease Control and Prevention (CDC). The Missouri Department of Health and Senior Services announced 19 Missouri public water systems received the award for the adjustment of fluoride in drinking water to a level that is effective for preventing tooth decay. The award recognizes communities that achieved excellence in community water fluoridation by maintaining a consistent level of fluoride in drinking water throughout 2016. The local water systems include:
Chillicothe Public Water Supply District #3
Brookfield Public Water Supply District #3
Linn-Livingston Public Water Supply District #3


Livingston County Saturation Results 01/08 12pm
A DWI Saturation in Livingston County resulted in two DWI arrests. The Missouri Highway Patrol conducted the DWI Saturation December 30th to early on the 31st.
During this enforcement operation, four officers patrolled Livingston County with a goal of detecting impaired drivers and other traffic violations that contribute to traffic crashes. Those officers made two arrests for driving while intoxicated, issued 14 traffic tickets ons issued, and 30 warnings given.


Library Offers Book Repair Program 01/08 12pm
When your favorite book begins to fall apart of maybe you accidently damaged it, there is no need to throw it out. The Livingston County Library is offering a "Book Repair Basics" program January 22nd. Monica Holmer from the Library says this is open to everyone.
<Audio: Holmer 1>
Holmer says you can bring your own books that need repair, or you can practice on some of the books the library has that need repair. The program is Monday January 22nd At 6:00 pm in the second floor courtroom.
For more information, call Monica at 646-0547.


Surplus Weapons On City Council Agenda 01/08 6am
The Chillicothe City Council considers surplus weapons, and the purchase of equipment as they meet this evening. The meeting begins at 6:30 pm at City Hall.
After the council approves the financial items, they there are three appearances scheduled.
Mayor Chuck Haney presents his recommendation to re-appoint Rolfe McCoy to the Board of Public Works.
CMU Director Jim Gillilan leads a discussion and will present an ordinance for the purchase a directional boring machine for the CMU Electric Department.
Police Chief Jon Maples presents a request for the declaration of 30 weapons and a vehicle as surplus. The weapons include:
6 Colt AR-15 semi-automatic rifles - 5 with lights
A Bushmaster XM-15
7 Palmetto TA-15 Rifles
2 Smith and Wesson M&P-15 with optics
5 Remington 12 gauge shotguns
A Mossberg 12 gauge shotgun
2 Smith and Wesson 12 gauge shotguns
There are also five fully automatic weapons


County P&Z Public Hearing Tonight 01/08 6am
The Livingston County Planning and Zoning Commission has a public hearing Monday to consider their recommendation for a conditional use permit for a business in Blue Mound Township. The public hearing is Monday at 6:00 pm in the second floor courtroom of the courthouse and is to consider the Conditional Use Permit for a repair shop for agricultural and industrial equipment on agriculture zoned land located 6 miles south of Chillicothe on US 65.
The Planning and Zoning Commission will send their recommendation to the County Commission who holds a second public hearing Tuesday at 11:00 am as part of the County Commission Meeting.


Troopers Investigae Three Local Accidents 01/08 6am
Three accidents are reported by state troopers in the local area over the weekend.
Saturday at about 5:00 am, Troopers in Linn County responded to a single vehicle accident on Route JJ, near Marceline. The report states 26 year old Benjamin Lile of Marceline was eastbound and swerved to miss a deer and ran off the road. His vehicle went airborne and struck a culvert, an embankment and a tree. He sought his own treatment.
Sunday in Livingston County, at about 5:30 pm, 62 year old Gary Lockhart of Warrensburg was southbound on US 65 and his vehicle slid on the wet roadway, when into the ditch and overturned. No injury information is available.
Sunday at about 3:00 pm, on US 36, near Wheeling, 21 year old Samuel Jacobson of Lenexa, Kansas had minor injuries in a single vehicle accident. The report states Jacobson was eastbound on US 36 and ran off the road, hitting the ditch. He was taken to Pershing Memorial Hospital for treatment.


Sexual Misconduct In Chillicothe Police Report 01/08 6am
Sexual Misconduct involving a juvenile is in the Chillicothe Police Department report.
Friday, Chillicothe Police officers received a report of alleged sexual misconduct involving a juvenile victim at two locations and on different dates, in Chillicothe. The report was sent by an investigator in Putnam County Children's Division. The investigation continues.
Friday afternoon, Theft was investigated in the 100 block of Trenton. Suspects are identified, and the investigation continues.
Friday evening, officers arrested Brandon Scott Simpson of an Livingston County warrant for alleged drug possession. They also arrested Felicia Pauline Martin and Renee Justine Korona for alleged drug possession. They were all held at the Daviess Dekalb Regional Jail.
Late Saturday morning, Officers responded to a reported assault involving a weapon in the 1000 block of Graves Street. Suspects have been identified and charges are pending.
Saturday night, Officers took a report of stealing in the 500 block of Samuel St. The investigation continues.
Saturday night, Officers took a report of forgery in the 1100 block of Clay Street. The investigation is on-going.
Sunday morning, Domestic Assault was reported in the 1500 block of Springhill Street. That investigation continues.


Two Local Winners In AL District Oratorical 01/08 6am
The American Legion District Oratorical Contest was Saturday and two area students are winners.
Madison Brown, a senior at Norborne High School in Carroll County is the District 2 Winner of the 84th annual American Legion High School Oratorical Scholarship Program, Saturday at Brookfield. Brown advances to Zone One Competition in Hannibal on January 21st.
Meredith Oesch, a junior at Southwest Livingston County High School, is the runner-up. Oesch serves as District Two alternate at the Zone contest.
Larry Warren from the Chillicothe American Legion says both girls delivered prepared talks lasting no less than five minutes and no longer than six minutes on an aspect of the US Constitution of their choosing. Then they each delivered an additional extemporaneous address on the Voting Rights 15th Amendment, a subject randomly drawn just five minutes before speaking.


Trenton City Council Considers Equipment Purchases 01/08 6am
Trenton City Council considers purchasing two pieces of equipment when they meet Monday. The Council meets at 7:00 pm at Trenton City Hall. New business includes consideration for approval for a bid to paint the water tower. The council also considers the Purchasing of a street sweeper and fire truck. They will also consider the financing of both pieces of equipment.


School Closings and Late Starts 01/08 6am
Late Starts and Closings for area schools on Monday January 8th due to weather and road conditions

Late Starts: 2 hours late unless noted
Breckenridge
Carrollton
Gallatin & no pre-school
Grundy Co of Galt & no vo-tec
Hale
Linn Co of Purdin
Pleasantview
Polo Start at 10:47
Southwest of Ludlow
Trenton

Closed:
Brookfield
Marceline
Meadville
Tina-Avalon
Tri-County of Jamesport