A Brookfield man was arrested Tuesday on a Federal warrant, but not before leading police on a chase that went through five counties, ending In Saline County.   Thirty-seven-year-old Matthew Guilford of Brookfield was sought on a Linn County warrant for alleged felony possession of a controlled substance and felony trafficking drugs.  He also has a federal warrant for an alleged parole violation.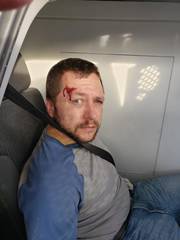 The chase started in Brookfield at about 2:50, and Guilford fled in a red pickup, heading west on US 36,  Livingston County Sheriff's Department was called to assist and attempted to use spike strips, which got one tire.  At Wheeling, Guilford avoided additional spike strips by crossing over to the eastbound side and driving towards oncoming traffic.  He exited Highway 36 at Chillicothe and headed south.  Speeds during the pursuit at times were over 100 miles per hour.  Officers in Carrollton and other communities blocked exits from US 65, forcing Guilford to continue south.  Additional spike strips were used and at least two tires were taken out on the truck.
Guilford was finally stopped on Business 65, south of Fitzgibbon Hospital in Marshall at about 4:00 pm.
Guilford was turned over to Linn County authorities and is held at the Macon County Jail.  Bond on the Linn County Warrant is $50,000 cash only. No bond is authorized on the federal parole warrant.
Livingston County Sheriff Steve Cox says after the chase, he saw alleged drugs in Guilford's vehicle.  Guilford could face charges in several counties as a result of the chase Tuesday afternoon.