St Louis Woman Arrested After High Speeds In Three Counties & A Construction Zone
A report of a vehicle traveling at over 100 miles per hour in Carroll County Wednesday afternoon had the Livingston County Sheriff's Department headed to assist.  The Carroll County Deputy lost sight of the white SUV on US 65 near Route H in Livingston County.  Sheriff's Department staff were at the Grand River Bridge when the vehicle crossed the bridge at 60 mph in a 35 zone.  Sheriff Cox was on the scene and attempted to stop the vehicle.  The woman driving had turned east on US 36 and accelerated to near 120 mph.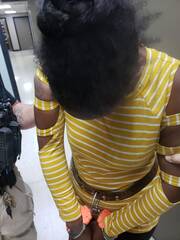 Sheriff Cox reported the traffic was light, but the vehicle passed trucks on the shoulder.  A short time later, near the Meadville Junction, the vehicle blew an engine and stopped.
The woman, 37-year-old Stephanie Diane Byrd of St. Louis, was arrested for alleged resisting arrest by flight, excessive speed 118 in a 65, 60 in a 35 construction zone with workers present and failure to yield to an emergency vehicle. A Carroll County deputy sheriff issued Byrd a couple of additional citations for violations in their county.  Byrd was transported to Daviess Dekalb Regional Jail pending the filing of formal charges.