What has been rained out and rescheduled?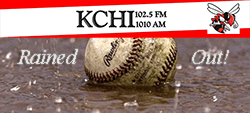 KCHI wants to keep you informed of everything sports!  We've had some rain-outs that have resulted in the rescheduling of some events.
In Track – The Time Trial at home scheduled for March 22nd was moved to March 25th at 4PM at the stadium; March 28th's Macon at Macon V/JV scheduled for 5:00pm has been moved to Chillicothe at Shaffer Park due to the new infield not being finished with their installation.
There have been some other changes in Boys Tennis, Baseball and Boys Golf – our Sports Director Ryan Sartori will have all that up-to-date information for you upon his return Monday…
Girls' soccer has no changes to report – but keep in mind that the girls' basketball banquet will be on April 1st and the boys basketball banquet will be on April 7th.