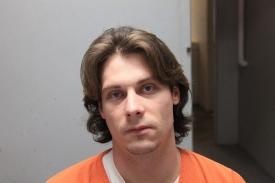 A man on the Livingston County Most wanted list was arrested Saturday by Livingston County Sheriff's Department Deputies.  Twenty-eight-year-old Matthew Aaron Case was arrested following a short pursuit that ended with a crash near Mooresville.  Sheriff Steve Cox says,  At about 4:20 pm, Case was seen by a deputy and he tried to flee on a motorcycle.  He was reported traveling at well over 100 mph on US 36 near Mooresville. Case was west of Mooresville he quickly braked and turned around going east on US 36 and then fled into Mooresville. He pulled into the yard of a church in Mooresville and lost control of the motorcycle at low speed.  Case then ran approximately 150-200 yards with the deputy chasing on foot.
According to Sheriff Cox, Case was in possession of a soft nylon style carry bag and quickly turned pointing what the deputy believed was a handgun at the deputy (the item was inside the bag). Cox says Case made the correct decision and threw the same bag into a large area of tall weeds. He was arrested and complained of chest pain and an ambulance was then summoned.
Livingston County K9 Zaki arrived and did his job of quickly marking the location of evidence. Officers recovered a fully loaded handgun from the same bag.  They also recovered an alleged meth pipe with methamphetamine, used digital scale, and other items. Additional evidence included cash seized at the scene and at the hospital.